Project Description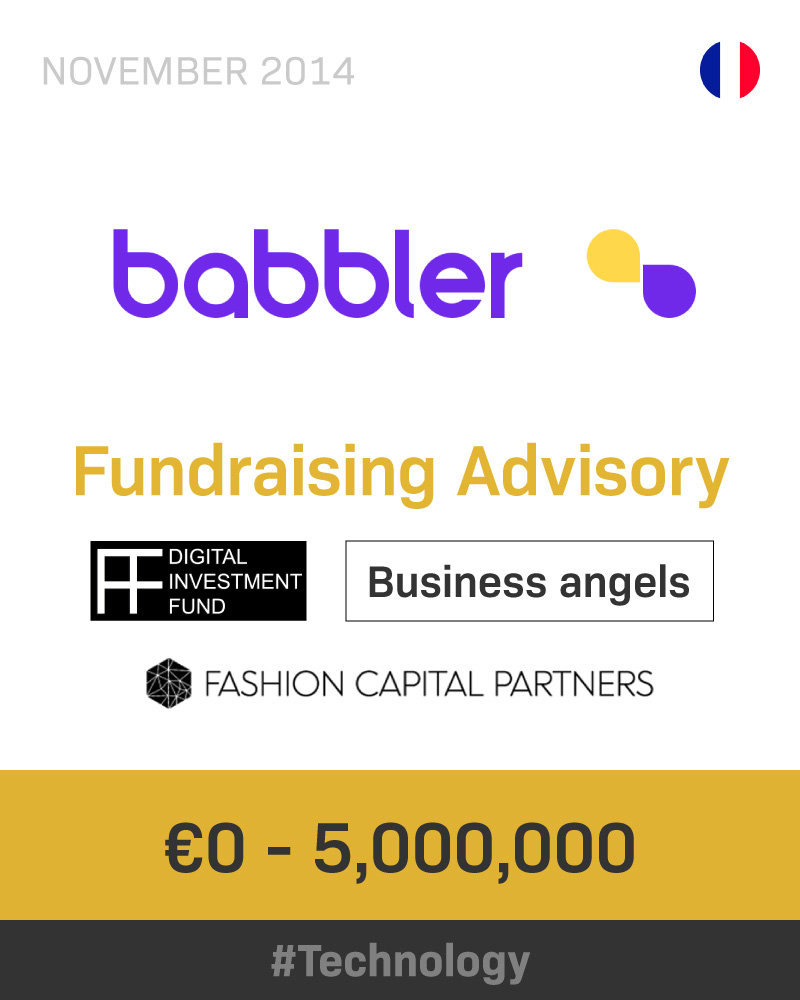 Effective Capital advised Babbler for its first financing round.
Created in 2012, Babbler is the first social network for PR and media professionals. Babbler has developed a digital platform to change the rules in the PR world.
Founded in 2012 by two sisters, Hannah Oiknine and Sarah Azan, Babbler starts playing in the big leagues with prestigious investment funds entering its equity. Babbler has developed B2B software solutions for the press industry : agencies, press departments and press agents. It offers a new real time communication channel between professionals and media.
Babbler is preparing another fundraising round for 2015 to internationalize the development of its social network. With this strategy in mind, the founders have decided to reinforce their board by setting up an intermediary pool with strategic associates. Among them:
Fred and Farid, the first French independent Digital Creative Group, founded by Fred Raillard and Farid Mokart.
Fashion Capital Partner, the first investment fund specializing in new technologies for the fashion industry, founded by Francesco Maio and Celine Lippi.
Serge Perez, founder of Ateliers Corporate, an advisory company in strategic communication, and ex-Director of Publicis Consultant France.
"This bridge of several hundreds of thousands of euros will allow us to reinforce the technical and commercial team and speed growth up", according to Hannah Oiknine, founder.
Ilan Elbase, Partner of Effective Capital adds: 'These prestigious investors, such as Fred and Farid, Fashion Capital Partners and Serge Perez will allow Babbler to pursue its strong growth and prepare its international advancement planned for 2015".
---
Operation stakeholders:
Financial advisory: Effective Capital, Ilan Elbase, David Boccara
Legal advisory: SB Avocats, Sacha Benichou, Julia Slama