A specialist in mergers and acquisitions, 32-year-old Ilan Elbase has set up his own investment bank, Effective Capital. He is unhesitatingly shaking up the ground rules for his entrepreneurial clients.
Gone is the formal necktie
Ilan Elbase has traded it for jeans and honest camaraderie. This 32-year-old investment banker, who does not beat about the bush and expresses his convictions, is even upsetting the conventions of his business environment. "I choose my dossiers based on the intellectual interest and sympathy that entrepreneurs inspire in me rather than on 'fees',", that is to the percentage of commission that the banker collects.
This philosophy was adopted in late 2011. Then director of mergers and acquisitions (M&A) for La Financière Cambon, today he has about twenty deals to his credit, covering the variety of financial arrangements possible. In 2010, he worked on an acquisition for the American Accel Partners fund, one of the most active funds in e-commerce worldwide, and one of the first to have invested in Facebook and Showroomprive.com – an operation worth 37 million euros, which was one of the most outstanding in the sector that year. Ilan Elbase was also instrumental in video game distributor Nexway's third round of funding where the venture collected 18.4 million euros, mainly from CDC Entreprises.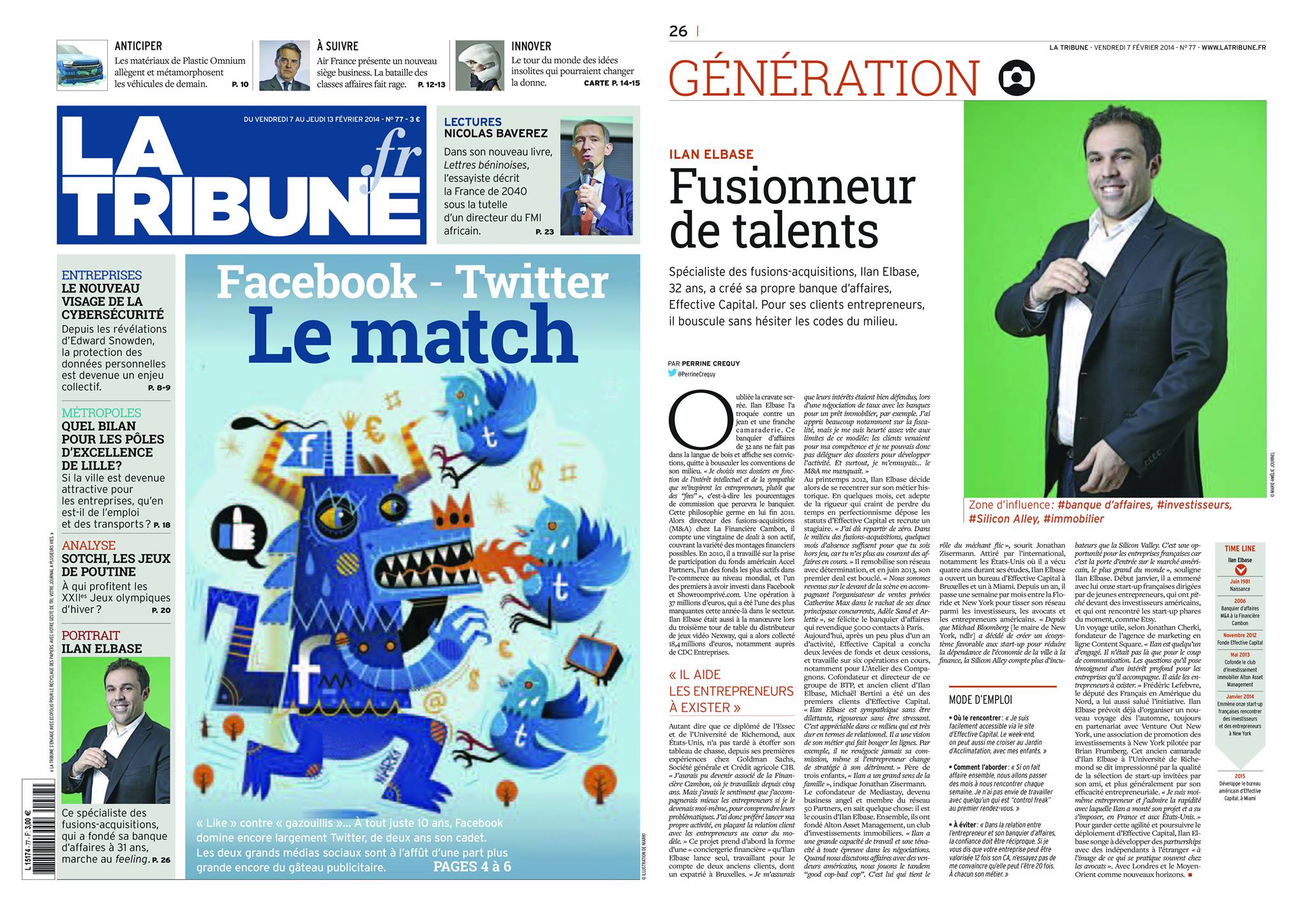 "HE HELPS ENTREPRENEURS TO EXIST"
One might well say that this graduate from ESSEC and the University of Richmond in the United States has been quick to expand his list of conquests since his primary years of experience at Goldman Sachs, Societe Generale and Credit Agricole CIB. "I could have become a partner at Financière Cambon, where I worked for five years. But I had the feeling that I would be able to help entrepreneurs better if I became one myself in order to understand their problems. Therefore, I preferred to start my own business, placing customer relations with entrepreneurs at the heart of the model". This project first took the form of a 'financial concierge' which Ilan Elbase launched on his own on behalf of two former clients, including an expatriate in Brussels. "I made sure that their interests were well protected by negotiating rates for a mortgage with the banks for example. I learned a lot, especially about taxation, but I realised the limits of this model very fast: clients came to me for my competence and thus, I could not delegate dossiers to others in order to expand the business. Above all, I was bored. I was missing M&A".
In spring 2012, Ilan Elbase thus decided to refocus on his core business. Within months, this follower of of rigour who fears losing time in perfectionism filed the statutes of Effective Capital and recruited a trainee. "I had to start from scratch. In mergers and acquisitions, an absence of a few months is enough for you to be out of the game because you are no longer aware of current affairs". He remobilised his network with determination, and closed his first deal in June 2013. "We got back to the forefront by supporting private sales organiser Catherine Max in the purchase of her two main competitors, Adèle Sand and Arlettie", says the banker who claims to have 5,000 contacts in Paris.
Today, after little more than one year of activity, Effective Capital has concluded two fundraising and two transfer negotiations, and is working on six ongoing transactions, in particular for L'Atelier des Compagnons.
Co-founder and director of this BTP group and a former client of Ilan Elbase, Michaël Bertini was one of the first customers of Effective Capital. "Ilan Elbase is nice without being amateurish, and rigorous without being stressful.
This is significant in an environment which is very hard in terms of relationships. He has a vision of his business that is a game changer. For example, he never renegotiates his commission even if the entrepreneur changes strategy at his expense". A father of three, "Ilan has a great sense of family," says Jonathan Zisermann, co-founder of Mediastay turned business angel and a member of the 50 Partners network. Zisermann knows what he is saying: he is the cousin of Ilan Elbase. Together, they founded Alton Asset Management, a real estate investment club. "Ilan has a great capacity for work and an indomitable spirit in negotiations. When we discuss business with American vendors, we play the 'good cop-bad cop' tandem. He's the one who plays the bad cop," says Jonathan Zisermann with a smile.
Attracted by the international arena, particularly the United States where he lived for four years during his studies, Ilan Elbase has opened an office of Effective Capital in Brussels and one in Miami. During the year, he spends one week per month shuttling between Florida and New York, building his network among investors, lawyers and American entrepreneurs. "Ever since Michael Bloomberg [mayor of New York, ed.] decided to create a favourable ecosystem for start-ups to reduce the dependence of the city's economy on finance, Silicon Alley has more incubators than Silicon Valley. This is an opportunity for French companies because it represents a gateway to the American market, the largest in the world," stresses Ilan Elbase.
In early January, he took with him eleven French start-ups, run by young entrepreneurs, who pitched to American investors, and who met flagship start-ups of the moment, such as Etsy. A useful trip, according to Jonathan Cherki, founder of the online marketing agency, Content Square. "Ilan is someone who is engaged. He was not there just for the communication impact. The questions he poses show a deep interest in the companies he supports. He helps entrepreneurs to exist". Frédéric Lefebvre, MP for French residents in North America, has also welcomed the initiative. Ilan Elbase is already planning a new trip this autumn in partnership with Venture Out New York, an investment promotion association in New York led by Brian Frumberg. This friend of Ilan Elbase from academic days at the University of Richmond says that he is impressed by the quality of selection of the start-ups invited by his friend, and more generally by his entrepreneurial efficiency. "I am an entrepreneur myself and I admire how quickly Ilan has mounted his project and has been able to established himself in France and the United States".
To safeguard this agility and continue the deployment of Effective Capital, Ilan Elbase dreams of developing partnerships with independent foreign firms "in the image of what is often practised by lawyers" – with London and the Middle East being the new horizons.
RDV à New-York en septembre prochain pour le pitch final.